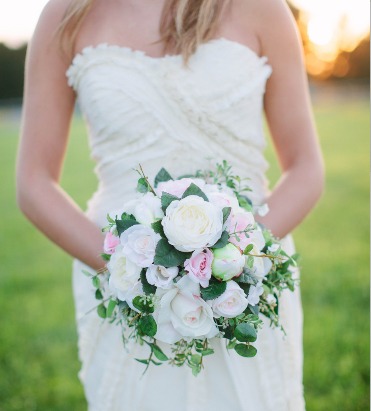 Wedding Flowers That Are Uniquely You
We understand that the many decisions involved with planning your wedding can be stressful. No matter the size or style of your wedding, we work with you to take the stress out of planning your wedding flowers. Big or small, know you will walk down the aisle with beautiful flowers that are uniquely you! Please note that there is no exact pricing for flowers. Your investment will depend on arrangement size, type of flowers requested, how many flowers are used, and how ornate the arrangement is. We offer the following as a starting point for preparing your floral budget.
Below is a starting price point for many of our more popular designs, but we offer many other florals for your big day or special event. If you're interested in flowers not listed below, please ask and we would be happy to create something special just for you!
Bouquets
Bride's bouquets generally range from $75 to 150+ with bridesmaid bouquets starting at $60. One bride's toss bouquet is always complimentary.
Boutonnieres & Corsages
A boutonniere is traditionally worn by the groom, groomsmen, ushers, ring bearers, fathers, and grandfathers. Occasionally, they are also given to readers, godfathers, and other special guests.
The groom's boutonniere is complimentary. All other boutonnieres start at $7.50
Corsages are traditionally worn by mothers and grandmothers; however, readers, aunts, and other special guests in attendance can also wear one.
Our pin corsages start at $20 and wrist corsages at $25.
Centerpieces
Table centerpieces range in price from $30 for a small centerpiece up to $75+ for larger centerpieces. Eiffel Tower centerpieces start at $150 each.
Larger head table centerpieces for the bridal table start at $125+.
Ceremony & Church Flowers
Arrangements for the altar range start at $125. Pew bows range from $8 to $12+.