A wedding planner can be a priceless source of information and guidance as you plan your wedding. From connecting you with the perfect vendors and keeping you on-budget to providing day-off coordination, many couples turn to a wedding planner for industry insider tips and advice; however, there may be a few things your planner isn't telling you, particularly when it comes to your wedding flowers, so we're sharing the top three things you need to know as you plan your flowers.
1. Don't Wait to Book Your Florist
Generally, most newly engaged couples begin searching for the ideal venue and caterer before narrowing down other professionals, such as photographers, DJs, and florists. Determining your venue and date (and retaining them for your big day, of course) is a great starting point, but what should you do if the venue or a specific wedding date isn't your top priority? Well, start with your heart! If you've had your heart set on an amazing florist, for instance, book that first and plan the rest accordingly. Trust that it will all fall in to place from there.
While many wedding planners and bridal timelines recommend six to nine months as the time frame in which you should book your florist, wait too long and you may risk losing out on your dream florist, particularly if that florist is in high demand. Our couples often book us anywhere from nine months to a just over a year out from their wedding. It breaks our hearts to have to turn a couple away, but it does happen on occasion, especially during our more popular months, which right now is mid- to late-spring and early fall.
2. Reuse Your Blooms In Creative Ways
One of our favorite secrets to share with our couples: reuse your blooms! Of course you can go a more traditional route and have your florist design individual table centerpieces, but it's amazing how easily you can transform a sweetheart table or head table with strategic placement of your bridal party's bouquets and some simple votive candles. The same can be said about your ceremony flowers. For example, recycle your aisle flowers into flowers for guest tables, which works best for smaller weddings, or transform your altar arrangements into statement-making guestbook and/or seating card table centerpieces. Think outside the box or ask your florist for suggestions.
3. Consider Your Linens (And Venue)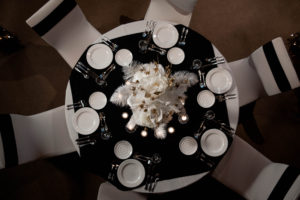 Every bride wants her reception flowers to make a statement, but how much consideration you put into coordinating your linens and the atmosphere and decor of your venue with your flowers can be the difference between eye-catching and an eye sore. So, pick out the perfect palette, the classiest containers, and the most beautiful blooms, but remember that there's a delicate balance that needs to happen when pairing them with bold linens or busy patterns. When you're investing so much in your wedding flowers, it's crucial to keep the focus on them. A no-fail approach: lean toward muted, subdued linens or incorporate a neutral overlay, such as burlap, lace, or other fabric runners that enhance your table without overpowering your centerpieces.