So, you've chosen your wedding colors. Maybe pink and purple, maybe autumn-inspired jewel tones. OK, great…but exactly how are you going to convey these colors to your florist (and other vendors)? Just verbally sharing your color palette is not enough. Sure, there's "pink…" but there's also nearly 50+ varieties of pink: petal, tickled, rose, guava, blush, fuchsia, ballerina, hot pink, bubble gum–the list goes on! Do you see where we're going with this?
Enter the color swatch. Every designer carries them and you absolutely need to leave the bridal store with them in hand. Some stores will provide them for free, others may ask you to pay a few dollars to purchase them. Either way, these small stress-saving swatches are a game-changer when it comes to designing your wedding flowers. Here are three key reasons why you need to get–and bring–those color swatches to your floral consultation.
1. You Want to Avoid Playing the Name Game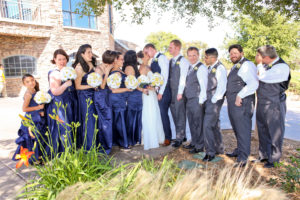 When describing color choices to your florist, providing photos and/or color swatches are often more helpful than just naming the color or giving a general description. For instance, both Alfred Angelo and David's Bridal carry colors that are called the same name–Marine Blue–but one look at each swatch and it's clear that each designer has significant differences in shades, which can vary furthermore depending on the fabric type. Providing your florist with fabric swatches as you discuss flowers available in your colors can make it easier for you to see how your overall look will come together.
2. You've Chosen an Unconventional Color Combo
Unexpected color palettes are great, but there are several things to consider when picking your flowers to coordinate with your colors. For instance, are your dream flowers even available in these shades? If not, you may have to compromise with a slightly different color or a completely different bloom that is offered in your colors. This is why bringing color swatches to your floral consultation can be particularly beneficial as you start to plan your bouquets and reception flowers. Allowing your florist to see the exact shades you're considering opens up additional possibilities, perhaps some you've never even thought of! So go ahead and spring for unusual and eccentric pairings, but keep in mind such color combos may require you to be flexible.
3. You Want Everyone on the Same Page
Color swatches come in handy when communicating with all your vendors, not just your florist. What you consider to be "light blue" may vary greatly from those of your florist, linen supplier, and venue. Providing the exact hue will prevent miscommunication, confusion, and ultimately disappointment.
---
We're here to walk you through coordinating your flowers with your wedding day color palette when you're ready. Click here to submit your pre-consultation form or give us a call at (724) 695-2259.